The choir will be taking a well deserved break during the summer. Special music will be provided by various soloists. They will have their annual cookout at the home of Cheryl Conti on Saturday August 18th beginning at 2:00 PM. Anyone who enjoys singing or might be interested in participating in the choir is invited to come to the picnic. Just let Cheryl or Vel know so that we have an approximate number for planning food.
SUMMER MUSIC CAMP FOR CHILDREN: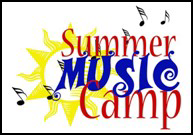 If there is sufficient interest, I am considering doing a week long "music camp" for children who have completed 1st grade or better. Older children and previous ringers are also encouraged to attend. It would be from 6:30 PM until 8:00 PM Monday through Friday, August 27 to 31. It will include some bell ringing, some basic music reading and some singing. I ask that all those participating plan on participating in our Worship Service at 11:00 AM on Sunday, September 2nd. I hope for a minimum of 10 children and a maximum of 20 in order to make this happen. If you have a child, or know of a child who would like to try bells or who enjoys singing, please let me know.
You can contact me via email: Velgambl@optonline.net or phone: (732) 961-1168 or (732) 915-0995 or leave a message in the choir mailbox in the office. I will need to have definite commitments by August 20, in order to prepare necessary materials for the workshop