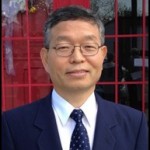 Pastor's Corner
2019—the Year of Shalom.
Pastor's Corner March/April 2019
"We will be with the Lord forever"
(1Thessalonians 4:18).
Recently, I updated the emergency file for
my family. If something unexpected happened to me such
as death, then my family can open the file that will guide
them through their difficult times. As I was going through
the file, I grew solemn with the thought of death. In fact, it
caused me to reflect on life, death, and life after death. I
would like to share with you three things that the process
reminded me of.
First of all, the process helped me to check on my
perspective on death and life. I am not particularly fond of
the thought of death. At the same time, however, I found
myself not afraid of dying, either. I strongly dislike the pain
that follows after the physical separation from my loved
ones. Acknowledging death as part of human life that we
all go through, the best attitude for me is to humbly accept
it and be determined to live one day at a time with
gratitude to God the Life‐Giver.
Secondly, I also thought about the place we go after we
depart from this life. For those who are in Christ, Heaven
awaits where we will be with our Heavenly Father forever.
In Heaven, there will be "no more death or mourning or
crying or pain, .." (Revelation 21:4). Christ warns, however,
"not everyone who says to me, 'Lord, Lord,' will enter the
kingdom of heaven, but only the one who does the will of
my Father in heaven" (Matthew 7:21). I want to make sure
that not only I, but also my loved ones, will be at the same
place. My ultimate responsibility, and yours too, is to share
the Good news of Christ with our family members.
Thirdly, the process renewed my hope of seeing my loved
ones who have gone to the Lord before me again. In his
letter to the Thessalonian believers, Apostle Paul assured
them that the Lord will bring those who are asleep in Christ
at His second coming: "For the Lord himself, with a cry of
command, with the archangel's call and with the sound of
God's trumpet, will descend from heaven, and the dead in
Christ will rise first. Then we who are alive, who are left, will
be caught up in the clouds together with them to meet the
Lord in the air; and so we will be with the Lord forever.
Therefore encourage one another with these words" (1
Thessalonians 4:15‐18). We do have hope to be reunited
with our loved ones in Heaven.
Each year we celebrate Easter. We celebrate Christ's
victory over death. Why is He risen from the dead? To
demonstrate the truth that death will be swallowed by life.
To declare that life doesn't end with our physical death. To
assure us that a glorious life for eternity awaits us in
Heaven. To give us the hope that we will be with the Lord
and with our loved ones forever. Amen.
Have a blessed Easter.
Kyewoon