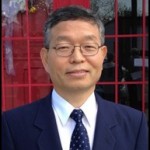 Pastor's Corner
"Very early in the morning, while it was still dark, Jesus got up, left the house and went off to a solitary place, where he prayed" (Mark 1:35).
"Beware of the barrenness of a busy life"— Socrates.
"No matter how busy you may think you are, you must find time for reading or surrender yourself to self-chosen ignorance"—Confucius (Chinese teacher and philosopher, 551-479 B.C.)
"I thought that I had no time for faith nor time to pray, then I saw an armless man saying his Rosary with his feet"— peachyjr (Thinkexist.com)
Have you noticed how fast time flies (like a rocket)?! "Where has all the time gone?" I often wonder.
Many of you not only feel like I do, but also are overwhelmed with your hectic daily schedules. Just think of a full- time working mom with three school-aged kids. I bet she is an expert in running the family and working with her multi-tasking skills, yet I also see in her the risk of burn-out, therefore, the need of rest.
A prolonged busy life is surely unhealthy, isn't it? Slow down—you would say. You know the remedy. So, you crave for and guard a down-time at the end of each day. You even go on a vacation. Then, after the vacation, you feel like you need another one to recover from the vacation fatigue! Back into the busy life again, the vicious cycle resumes: busy-tired-vacation–busy-tired-vacation.
Our life doesn't have to be that way. Let me introduce the ancient ways that work. If you stay disciplined practicing them, you will have rest, peace, order, and harmony in your life every day. Christ practiced them. So did His disciples. So did countless believers in Christ for centuries, and they all had rest and peace daily throughout their lives.
Here we go. Three ways to find daily rest and order: Daily Bible reading, daily praying, and weekly worshiping of God. I almost hear some saying, "That's another work to do! It's typical of the pastor to say…" Yet, my point is that they work. If you do, you will find peace, rest and order in your life every day. How? You may wonder. By seeking God first in your life, God will take care of your daily needs such as rest, peace, order, and harmony (Matthew 6:33).
Give them a try this summer. Experiment yourself and find out whether they work or not. Remember Jesus: as busy as He was during His public ministry, He practiced them all and commands us to do the same. I tried them out myself and found out that they work, too! Claim God's promises of rest, order, harmony, and contentment in Jesus!!!
See you in prayer and at church !
Kyewoon