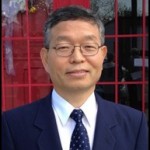 Pastor's Corner
Have you ever felt that the food for your stomach is far more important than that for your spirit?
Then, please meet Rod who would put his physical needs before his spiritual nourishments.  Even on Sunday mornings.
In my salad days of ministry in Michigan, there was a time when the service went over an hour.  Four Sundays in a row!   In the congregation sat Rod, a widower in his sixties.  On those Sundays, I noticed that in the middle of my sermon he stood up and left the sanctuary.  To be exact, he did so at 10:45 a.m. (15 minutes after the "one hour" mark).  Every single Sunday!  Four times in a row!  Let me tell you this: such an act never fails to catch the preacher's attention.
Well, you probably would have guessed right.  I helplessly watched him leave.  "What did I just say?" I thought to myself in puzzlement, "I must have offended him! But, not every Sunday!"
Months later, we became close friends, and one day, I candidly asked him about the incidents. What made him leave church early every Sunday?  He replied, "Because I didn't want to be late for my lunch at Old Country Buffet!"  We both laughed hard at that.
Then, about a year later, once again I broke the "forbidden" rule: the service lasted more than an hour again.  This time, however, Rod didn't leave the service.  As a matter of fact, he stayed for the whole service!  In the receiving line that day, Rod proudly said to me, "I hope you noticed that I stayed to the end of the service!"  I surely did!  And, I was very proud of him.
In the next few years, the same man took my pastoral challenge to read through the Bible and finished reading God's Word from cover to cover THREE TIMES.  As a result, his faith grew leaps and bounds.  In his mid seventies, though, he became disabled and wheel-chair bound.  Add another ten more years to his life.  In his eighties, he was stroke-stricken, and the doctor told him that his days on earth were numbered.  In his last week on earth, in the hospital bed, Rod confessed to his friend that he was ready to "meet his Maker."
Sometimes, as minister of the Gospel, I get into a doubt about what difference my ministry ever makes in the lives of people.  But, people like Rod make the time, energy, and effort worth it all for the sake of God and God's Kingdom.  Thanks, Rod!
I pray for each member and friend of MUMC every day.  That is my pledge to you.  In prayer, I ask the Lord to transform you to be more like Jesus every day so that you,
like Rod, would represent our Heavenly Father here on earth and be a worthy citizen of Heaven for eternity.
Read the Bible (we are up to 19 out of 40 people—this year's goal for those who complete reading the Bible) and see you at church (hopefully the service won't go over your lunch time)!
Yours in Christ,
Kyewoon Choi, pastor