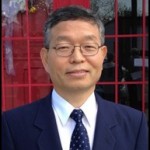 Pastor's Corner
2019—the Year of Shalom.
Ahh…another year is upon us. 2019. Every year, on New Year's Eve, at Times Square in NYC, tens of thousands people gather to send off the old year and to welcome the new year wishing for the best‐‐‐a year of health and prosperity. Such a gathering happens all over the world—both in the East and the West. I used to attend the New Year's Eve service at midnight with fellow believers in Korea praying for the best year ever. May the Lord grant you all of your wishes this year.
In the past six months, I was searching for the Lord's directions for MUMC in 2019. I was looking for the yearly goal for our church. I strongly felt that the Lord was leading me to the theme of restoration. Psalm 68:9 says, "God restores our heritage when it languishes." The verb 'to restore" got my attention and since then it was stuck in my mind for the rest of the year. About that word of restoration, I turned to God's Word to research further. And, finally, there came a word that I was looking for. It is the word that you will hear me preaching about throughout the year. It is a Hebrew word Shalom (often translated as peace, wholeness, prosperity, and completeness).
So, as pastor of this church, I am designating 2019 as the Year of Shalom—the year of restoration from all the things that we have lost. Whether it is the broken relationship with God or with people, whether it is the deterioration of our health, whether it is the financial loss, and so forth. May God lead us into Shalom in all areas of our life (spiritual, emotional, physical, and even financial area).
By the way, don't miss Sunday, January 6, when I am going to distribute the Scripture Scrolls at both services. Come and pick your own verse for the year. All those Scripture verses are chosen carefully and prayerfully. As the Lord has spoken to me, I pray that He will speak to your heart as well through the verse in your scroll that will help you stay focused throughout the year.
See you at church!
Kyewoon Choi, pastor