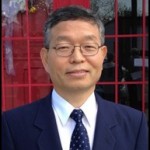 (note: since this issue covers November and December, I rotate the topics between Thanksgiving and Christmas. This year is on Thanksgiving. Next year, it will be on Christmas.)
A friend once delighted my family with a bagful of home-grown cucumbers: organic, fresh, and crunchy! Yum, yum,…They were gone in a couple of days! While our mouths were happy with the delicious produce of nature, our hearts overflowed with gratitude for the generosity of our friend, who later brought more fresh vegetables. More gratitude on our part! Do you see the pattern here? Blessings, gratitude, more blessings, more gratitude. It multiplies!
Gratitude – it is one of my favorite words. It is also an excellent topic to ponder in November, isn't it (Thanksgiving Day)? As pastor, I urge you to practice every day the following three things this month and beyond: D.O.T. 20, Thank you notes, and sharing the blessings with others.
D.O.T. 20: it stands for 'Doing of Thankings for 20 things': 10 Good things and 10 Not-So-Good things. Basically, the idea is to count "20" (blessings and troubles) every day and give thanks to God in all (both good and bad) circumstances trusting in His providence. I do this every morning: I begin with ten good things such as life, health, faith in Jesus, eternal life, family, food, clothing, shelter, church, loving members of MUMC. For these good things, I apply the word "grateful". Next, I include the things normally considered 'bad,' the things that I am upset with or bothered by: for instance, concerns for my extended family, concerns for church members, and so forth (to these things I apply the word "thankful"). The purpose of this practice is to put our trust in God whose ultimate good will make us as a mature believer in Christ. This practice has been a tremendous blessing for me both spiritually and physically. Find yourself how beneficial it is to you!
Thank-you Notes: If it is always a good and right thing to give God our thanks, so it is to express our gratitude to the people in our lives. So, how about saying a word of "thank you" in person, a phone call, email, or even text? Do it today and every day!
Share blessings with the less fortunate: The rich fool in Jesus' parable (Luke 12:13-21) was very blessed with material things, yet God called him "You Fool." Self-indulgence and neglect of others' needs made the man an ultimate fool. Our abundance is never meant for us only, but for others as well (2 Corinthians 8:14). So, let us share God's blessings with others throughout this month and beyond. One great role model to follow is John Wesley. As rich as he was in his time, he gave away 98% of his income to the poor and charities (in today's purchasing power, he gave to the poor $250,000 per year on average for sixty years). God would never call him a "Fool," would He? Rather, He would say to him, "Wise and faithful servant," because he was rich toward God by sharing with others what he could not keep in eternal life. What a life!! Although most of us may not even come close to Wesley and his giving life, we can still share God's blessings with others. One day at a time!
Have a blessed Thanksgiving!
Kyewoon