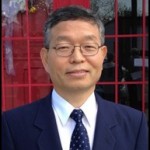 Nowadays, I thank God for one thing in particular: prayer. Praying time used to be a great burden to me (every pastor would understand) to the point where I often felt guilty that I didn't spend enough time in prayer. Today, that guilt is gone and prayer turns into a time of joy communing with God. I return to this time of being alone with God with great anticipation.
My prayer begins with the time of thanksgiving followed by the time of petition, and it ends with the time of waiting on the Lord in silence. One night in January, while I was waiting on the Lord, a thought came to my mind. The thought was actually a question: What did I give to the Lord today?
That question made me re-examine my prayer pattern. I realized that I would spend 90% of prayer time in asking favors from God and as soon as my list is done, I sign off for the night. I realized too that seldom I think of what I can give and give back to Him. Of course, everything is from Him, but it is very special for me to give something back to Him. Since then, I try to ask myself daily, "What have I given to the Lord today?" So far, here's the things that I find myself giving Him every day: I give thanks to Him for all the blessings He has bestowed on me. I also show my love to His name by ministering to my family and church family. Well, it's rather a short list, but that's about it for now. However, I would like to grow the list of things that I give back to the Lord. I am sure the Lord will help me be creative in my giving back to Him in the future.
I was thinking of Jesus who might have expressed His love for His Father in the same way: In the beginning, God was looking for the best way to redeem humanity from their sins. Jesus, knowing and loving His Father, volunteered His service by coming down into a human body even though He was equal to God. God became human. Incarnation. Then, He became a ransom for all. He died on the cross to pay the wages of our sins. God was pleased with Jesus' service on behalf of humanity, which completed God's redemption plan. All began with Jesus' question: what can I do for My Father? All ended with God's saving grace for humanity. The most serious breach in the relationship between God and humanity was bridged by Christ's simple offering to the Lord. It brought forth the most profound benefit to humanity for eternity: salvation and eternal life in the presence of the Lord.
Easter is fast approaching. Easter is all about Christ's victory over death. It is all about our hope of the same resurrection as Jesus. This Easter season, may we too imitate Christ's spirit to offer ourselves to God and to others to serve so that it may bring forth a profound impact on the lives of our loved ones and in the community we are living in. Where to start? Ask the Lord "What can I give to You Lord today?" He will give you wisdom; then you run with it, humbly and with gusto. The Lord will bless you and the people in your lives.
(Read more on "Loads of Love" in the following pages. It's the result of a question: what can we give back to the Lord? It led our church to this ministry of giving back to our community.)
See you at church on Easter.
Kyewoon