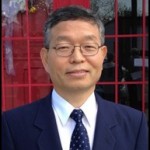 Have you ever invited a friend to your favorite restaurant because you love the food there and because you also wanted your friend to have the same dining experience?
That's what I do whenever I have a chance.
Let me tell you a story of a Chinese restaurant in Little Silver (Monmouth County), Little Szechuan. I used to go there for 16 years. Why was I a loyal customer there? First, the price was right. Next, the food was great. Third, the service was excellent.
The waiters knew me there and liked me, too. Even the owner recognized me with a smile each time I went. They even knew what my favorite dish was, what kind of soup and rice I liked. I have tasted all of the 18 entries in their lunch menu and liked every dish except two. No wonder the waiters were delighted to see me each time. But they got more excited when I brought company: sometimes one, other times four, and more than once, a dozen. Their smiles became even bigger than usual.
Why am I sharing this? Because, all of us would like to see more people at our services each Sunday morning. We would like them to come closer to God through worship.
So, here's my recommendation: how about inviting unchurched friends to our services? Let's consider MUMC as a spiritual restaurant where people come and get spiritually fed. We can invite our unchurched friends (with any background: Catholic, Jewish, Buddhist ) and let them be filled with God's blessing and taste our church—the genuine worship experience that includes God's presence and love, and, of course, our friendliness (we are well known for that). Tell them with confidence that they can learn a thing or two about God and themselves from the pastor's sermons, too. After the service, you can even treat them at your favorite restaurant for brunch or lunch.
The bottom line is this: Are you glad that you are a member of God's family? Are you grateful that you have eternal life in Jesus? Then, would you not share such a blessing with your friends? Let us fill God's house with the people who need the Lord. The real question is this: who's going to bring them to Jesus? You and I.
Let's try this: how about if we have a goal of 20/10 more people in each service by the end of the year (20 for 8:30 service and 10 for 11 service)? By the way, it is very achievable, and when we reach that goal, we will feel good about our services and the joy in Heaven will be great.
Would you join me in this endeavor, both in prayers and actions?
See you at church.
Kyewoon