Bless your enemies!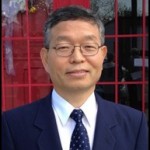 Well, you are about to read my recent unwanted and annoying adventure in my garden (6 ft. x10 ft.). My family started with a great dream of lots of good, home-grown, chemical-free, vegetables such as eggplant, zucchini, cucumbers, tomatoes, and green peppers. So, in May, the ground was tilled, fences were erected, buckets were in with fresh pot soil that guaranteed 60 days of richness in quality. There I planted all these vegetables expecting bountiful crops. I even promised to share my great crops with members and friends at church!
Move your time table to a month later. Up until two weeks ago, everything was great; all plants were growing healthy. One afternoon I noticed that half of the three zucchini plants' leaves were eaten by some critters! It was pathetic! (See picture below.) I was shocked and mad, although the attack was expected. My family immediately went into investigation and came to the conclusion that it was the family of four or five groundhogs underneath our shed.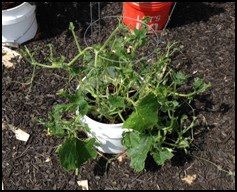 That's when my physical work started; shoveling to stuff groundhog tunnels and putting up fences around the shed. Being a city boy, I was never good at or used to this kind of work. All I wanted to do for my garden was watering and enjoying the crops! Well, now I discovered that gardening involves much more than that.As far as groundhogs are concerned, normally, I love God's creatures. Yet this time, my family declared all-out war! We got some good advice (both from friends and Youtube) how to catch, remove, or even to kill them. From bubble gum, to moth balls, to traps, and even bombs! Well, we tried them all except bombs! We also fenced the entire shed to stop their traffic. We even stuffed their tunnels with hard-to–chew materials and dirt. They didn't seem to work, because, today I saw a couple of groundhogs around my garden. When I chased them away, they got through the fence with no problem!
At this point, I pray that the Lord have mercy on my vegetables. In the meantime, I bless my groundhogs every day following God's command (bless your enemies!). By the way, I still would like to share my crops at the end of the season – whatever survives pests and groundhogs. Anyone want tomatoes and cucumbers?
Have a wonderful summer and see you at church!
Kyewoon