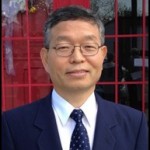 Note: our newsletter covers two months at a time, November and December. Since I wrote last time about Thanksgiving, this year I will write one for Christmas.
Christ—the Simple Gift from God's Heart
"Tomorrow would be Christmas Day, and she had only $1.87 with which to buy Jim a present." (The Gift of the Magi).
Do you remember the short story of O. Henry, "The Gift of the Magi"? In the story, a young married couple wanted to give a special Christmas present for each other. Della, the wife, not having enough money to buy the gift, sold her beautiful hair to buy a chain for her husband's gold watch. Jim, without knowing what he was about to get from his wife, also sold his watch to buy Della a set of combs for her beautiful hair. Later, they both discovered what they had done for each other.
I always loved that story. What touched me the most was the couple's desire to make the other partner's Christmas special. Of course, they were poor, so they had to sell their precious possessions in order to get a Christmas present for each other. O. Henry concludes his story as follows: (even though they) "unwisely sacrificed for each other the greatest treasures of their house," they were the wisest, like the magi, who started the tradition of giving gifts for Christmas. To me, the actions taken by the couple were a pure expression of love and care: they gave their hearts to each other only wishing the very best happiness of the other.
This year, once again, Christmas is fast approaching. Some radio stations will start playing Christmas songs in November! As we go through November, let us give thanks to God for His blessings on our families throughout the year. Let us also remember that some families around us go through very tough times worried about tomorrow in the midst of the bleak outlook of the economy. As God allows us, let us reach out to those families in Christ's love.
I also pray that the God of Christmas would cheer us up. God, thinking of humanity's best, gave us the most wonderful gift ever in a most simple way: His only begotten Son Jesus born in a manger for our eternal good—salvation. May the Lord kindle the same spirit of Christmas in our hearts to put others' interest first before our own and enable us to do something special for each other. I do not necessarily mean expensive gifts. Rather, simple gifts that come from the bottom of our hearts. In the end, our exchange of gifts would deepen our love and care for each other more than ever before.
Merry Christmas!
See you at church.   Kyewoon