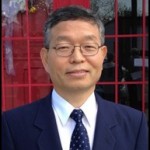 Pastor's Corner
Praise and thanks be to God from whom all blessings flow!
As I write this month's article, my heart is overflowing with gratitude. It's hard to believe that it has been five years already since my family and I came to Manahawkin. Not only do I realize how fast time flies, but I also see that many things happened in these years.
When we first arrived in Manahawkin, my family didn't know any of you at all. Now, we have many friends in Christ with whom we created wonderful stories to cherish. You welcomed us with open hearts and open arms. I still remember my first words in my first sermon on my first Sunday in 2013. "Some of you wonder if I can speak English?!" All of you had a good laugh. Three months later, we had our church conference where about 40 members attended to show their love and support. My District Superintendent exclaimed, "This is the biggest crowd I have ever had in a church conference!" It was to me, too. The same year, we had 38 people joined the church as members. Once again, it was a record breaking year in my ministry. Church finances turned around within a year. We fulfilled our Shared Ministry Giving 100% ever since.
We had projects completed from the parsonage kitchen renovation to church steeple repair, new ceiling in the hallway, new sound system, new roof, and new handicap accessible bathrooms in the following years. All paid for 100%! Thanks for your generous support for God's work at MUMC.
We also launched new ministries such as the Appalachian Service Project, Family Promise, Loads of Love, and 5L2F. We share God's blessings with our neighbors in Christian love.
All this is not about any individuals, but about God's grace that has brought us to where we are now. Thanks again to all of you from the bottom of my heart for working together with me for the advancement of God's Kingdom here on Earth.
We still have much to do in our homes, church, and communities. Let's not get weary as we do all these good works for God and His glory! Let us put our hearts, heads, and hands together to reach out to those who need God's grace, love, repentance, forgiveness, and eternal life in Christ.
I am looking forward to another year working together with you.
Yours in Christ,
Kyewoon Choi, pastor