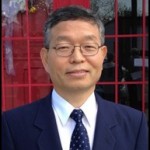 Pastor's Corner
2019—the Year of Shalom.
Pastor's Corner July/August 2019
(Background of the text below: After the people of Israel returned to their homeland after the 70 years of servitude in Babylonia,)
2 The people of Bethel had sent Sharezer and Regem‐Melek, together with their men, to entreat the LORD 3 by asking the priests of the house of the LORD Almighty and the prophets, "Should I mourn and fast in the fifth month, as I have done for so many years?" 4 Then the word of the LORD Almighty came to me: 5 "Ask all the people of the land and the priests, 'When you fasted and mourned in the fifth and seventh months for the past seventy years, was it really for me that you fasted? 6 And when you were eating and drinking, were you not just feasting for yourselves? (Zechariah 7:2‐6).
During the Babylonian captivity, the Israelites would do fasting and mourning for many years. When they returned to their homeland, they inquired of God's will if they should continue fasting and mourning since they were no longer in slavery. God's answer was "Yes, yet, do it not for your own sake or glory. Rather, do it to My glory and honor."
The text is more relevant than before. Many church people today worship and serve the Lord for themselves not for the Lord. One pattern permeates the Church: I bring my kids to Sunday School whenever they are free. In June, when Sunday School is out, so are they. So am I. We will return in September for the next nine months.
Such practice continues until their kids go to college. Then, just like their kids drop entirely out of the church, so do they. When I asked one such parent to return to church, she said, "Maybe later, not now." I couldn't help thinking all years of her worship and services were for herself, but not for the Lord.
Most of the members at MUMC are not like that. Thank God. In fact, I commend many faithful people of God at our church. I am very proud of all of you and grateful for your life‐long worship and service for the Lord and His people. Rain or shine. You are there. You worship the Lord and serve Him. Keep up your faith.
I also urge those folks who keep only religious holidays such as Christmas and Easter to ask the following question: "Why am I going to church after all? Is it for me or for the Lord?" I pray and hope that you discover the true reason for worship and service: the glory of God not our own.
Shalom
Have a safe summer and see you at church!
Kyewoon