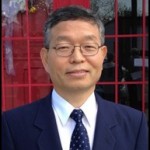 Pastor's Corner
2019—the Year of Shalom.
Pastor's Corner May/June 2019
Have you ever talked to a tree?  I have.  Once.
Several years ago, I was doing some yard work in the backyard of my previous church in Little Silver, NJ.   There were three pine trees and to one of them I spoke.  Do you want to know what I said?   "I am sorry," said I, "for I have neglected you in the past years.  I have never pruned or fertilized you.  Neither have I even appreciated your being here providing a nice view and shade for my family.  I am sorry."
Don't worry.  I was not going crazy.  Let me explain to you exactly what happened that day.  It all started with my intention to remove that invasive ivy in the backyard.  The ivy vines already covered a good area on the ground and were climbing on two pine trees.  As I pulled off the ivy vines from the tree trunks, I noticed some dead branches of the pine trees hanging around me.  As I was cutting off the dead branches, one of Jesus' words in John 15 popped up in my mind: "I am the true vine, and my Father is the gardener.  He cuts off every branch in me that bears no fruit, while every branch that does bear fruit he prunes so that it will be even more fruitful. …I am the vine; you are the branches" (v.1‐3, 5).
In my relationship with God, Jesus is the vine and I am the branch.  I abide in Him and He in me.  God, the Gardener of my soul, prunes areas in my life so that I would bear more fruit to glorify His name.  In fact, God does so for all of His children.
The areas that God has so far pruned in my life are: laziness, procrastination, timidity, lack of faith, lust, doubts, anxiety ……the list goes on.  My experiences with divine pruning were not always pleasant.  Some of them were rather painful.  Some took years.  Others are still going on.  All, however, is for me, because I am a child of God who wants me to be more fruitful.  He will keep working on me without compromise until the image of Jesus is fully realized in me.
If you are going through such a pruning from God now, may I urge you to be patient, trust in God, and ponder the words of Jesus?  Every branch that does bear fruit God pruns so that it will be even more fruitful.
By the way, after the pruning, the trees looked much happier and healthier than before.  They seemed to thank me for that.  In the following spring, sure enough, they brought forth many new and healthy young pine needles.
Shalom.
See you at church.
Kyewoon