Hello Everyone,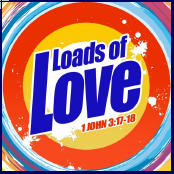 Each month a total of 9 Church Members work together as a team on the last Thursday to offer people free wash and dry of their clothes. Our normal hours are 6pm to 8pm. We take shifts starting with setup at 5:30pm and at 7pm a 2nd shift of members arrives relieving the 1st group. At 8pm we begin to breakdown the table & chairs we setup for the evening. This takes place at the Manahawkin Laundromat.
We are always looking for volunteers to help out and we invite you to come and see how it runs. In the past year we have had several church members as well as outside groups to come and see the operation. Our doors are always open. It's as simple as putting coins in the washers/dryers.
In March we had a busy night and we always want the word to be spread about this Mission to help anyone in need. We keep track of how many customers arrive each month and we average between 9 to 12 customers. We see familiar faces each month and enjoy conversations with them.
We recently received another generous donation ($450) from the Community Outreach Heritage Point Women's Group. This same group gave us donation last year as well.
It's amazing to see the donations roll in from outside groups or from individuals who are aware of this Mission. It's easy to see God's hands at work with this Mission.
Loads of Love Team