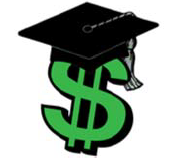 UMW Manahawkin Methodist Church
Emily Eismann Memorial Scholarship
The Scholarship Committee met Sunday, March 24th at which time six Scholarship applications were reviewed and accepted. On Sunday, June 16th, the following people will be receiving $500 each: Sarah Harkness, Erik Anthony Hauge, Derek Ketting, Nicole Kondrk, Kathleen Ries and Mackenzie Shields. Four of the applicants are high school seniors, and two are adults pursuing continuing education courses for certification in their respective field of study.
Meanwhile, on Sunday April 28th Scholarship Sunday, Art and Lovisa Hill gave an update on their 5 grandchildren's academic progress, and Matt Kokai presented highlights of his freshman year. All of the young people had been recipients of the Emily Eismann Memorial Scholarship from 2013 to 2018. A special offering was collected for the support of the Scholarship Fund.
On Saturday, May 18th, the United Methodist Youth Group will have a Car Wash. The proceeds will be contributed to the Scholarship Fund.
Thanks to all who have supported the MUMC Scholarship Program with your time, talents, and finances..
Submitted by
Eileen Mahan, Scholarship Chairperson