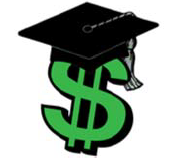 UMW Manahawkin Methodist Church
Emily Eismann Memorial Scholarship
The Scholarship Committee met via phone April 27th to review three applications and to set the amount of the scholarships. The applications were accepted, and each recipient will receive $550 on or about June 21, "Scholarship Recognition Sunday", pending receipt of "proof of admission" from their respective college/university by June 12th.
Congratulations to Danielle Basland and Rilley Kalsch, recipients of the Emily Eismann memorial Scholarship. Also, congratulations to Krista Paciello, recipient of the Edward W. Jones Memorial Scholarship. We wish our young scholars much success in their chosen fields of study.
Many thanks to all who have contributed to the Scholarship Fund. Your on-going support is very commendable.
Submitted by
Eileen Mahan and Phyllis Woehr
Scholarship Co-Chairs